The LXR-02 Drum Synthesizer
Two companies - Sonic Potions and Erica Synths joined efforts to develop a drum machine that would stand apart from the masses and the LXR-02 was born. The LXR is a full-fledged digital drum machine with an integrated sequencer. Its sound engine provides 6 different instruments, each with over 30 parameters to tweak, producing sounds from classic analogue emulations to crunchy digital mayhem, thus offering some of the most extensive sound design capabilities found on a drum synthesizer. Its compact, durable design and clear user interface make it ideal for live gigs..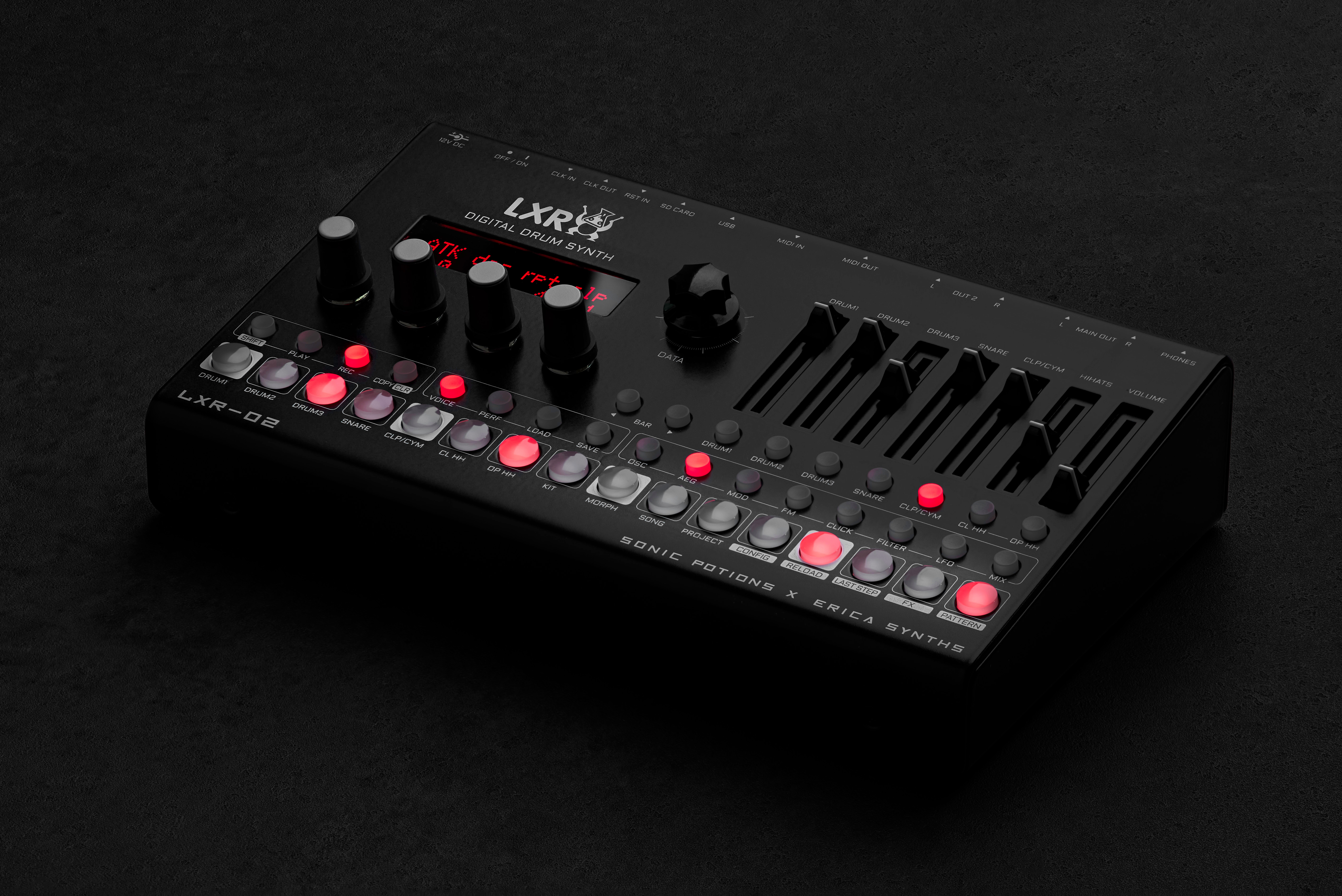 A classic reinvented
The LXR-02 takes what was good about the V1 and improves on the rest. The direct access the volume faders offer makes for a great performance tool. The 4 potentiometers below the display have been replaced with 360° endless pots, so say good bye to skipping parameters when navigating the plethora of synth parameters. Want to jam on the couch? Plug in some headphones! More CPU power allows you to top off your kits with a sprinkle of FX, be it some delay or some crunchy distortion, more memory means 64 patterns, kits and songs directly accessible on the fly, and an improved UI streamlined the user experience.
The Sequencer
On the first look the sequencer seems to be your basic, off the shelf 16 step drum sequencer. But there's more to it! Patterns can have up to 64 steps, divided into 4 bars, resulting in a total of 64 steps per track. To top it off we added a probability control, parameter automation and full MIDI velocity to each step. Together with an all new song mode and polyrhythm capabilities it is a breeze to program interesting shuffles and beats.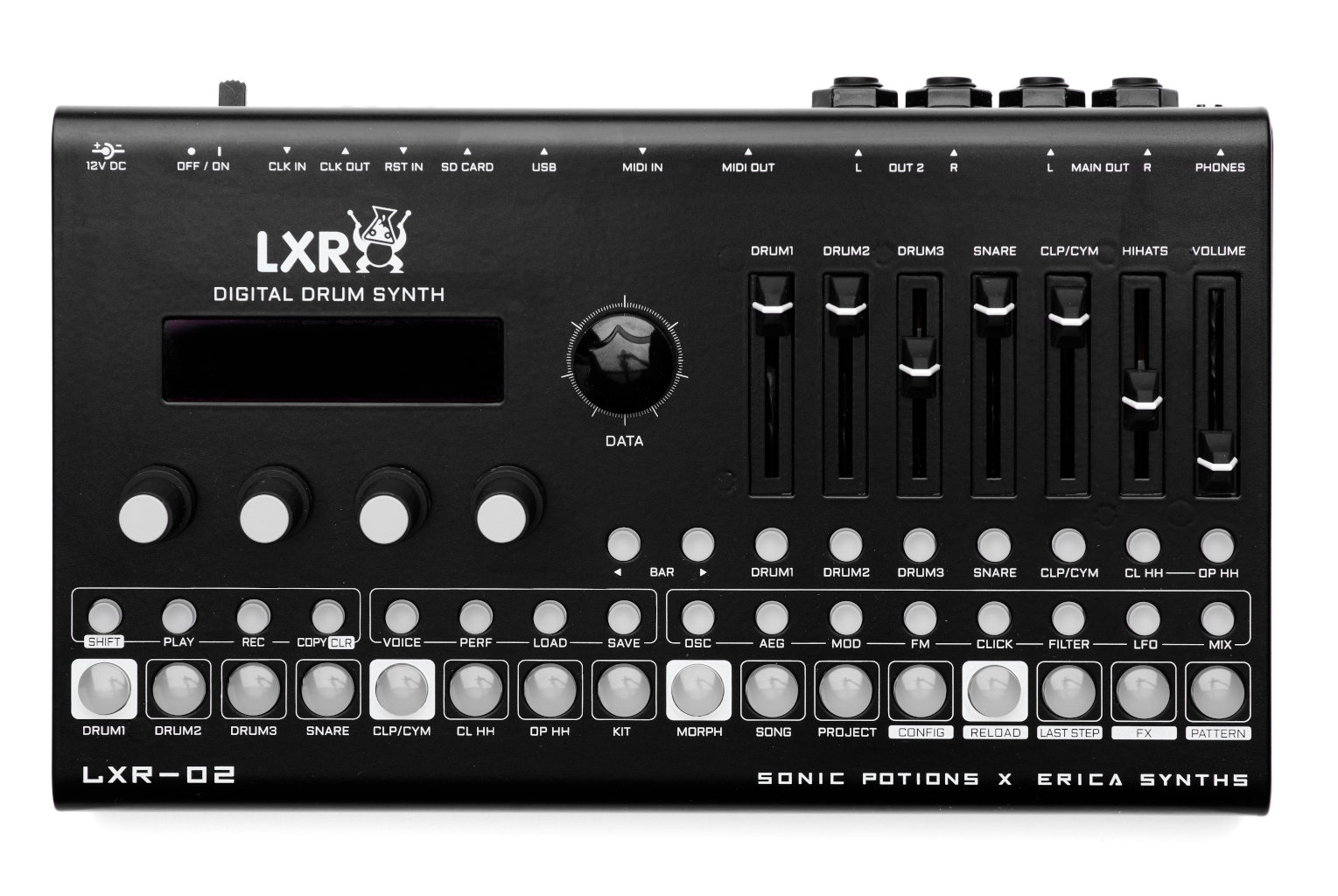 Sonic flexibility
Each of the 6 voices is a complete synthesizer with multiple oscillators, envelopes, a multimode filter, effects and versatile modulation options. There are different synthesis models used for the different voices. Each one optimised, but not limited to certain types of drum sounds.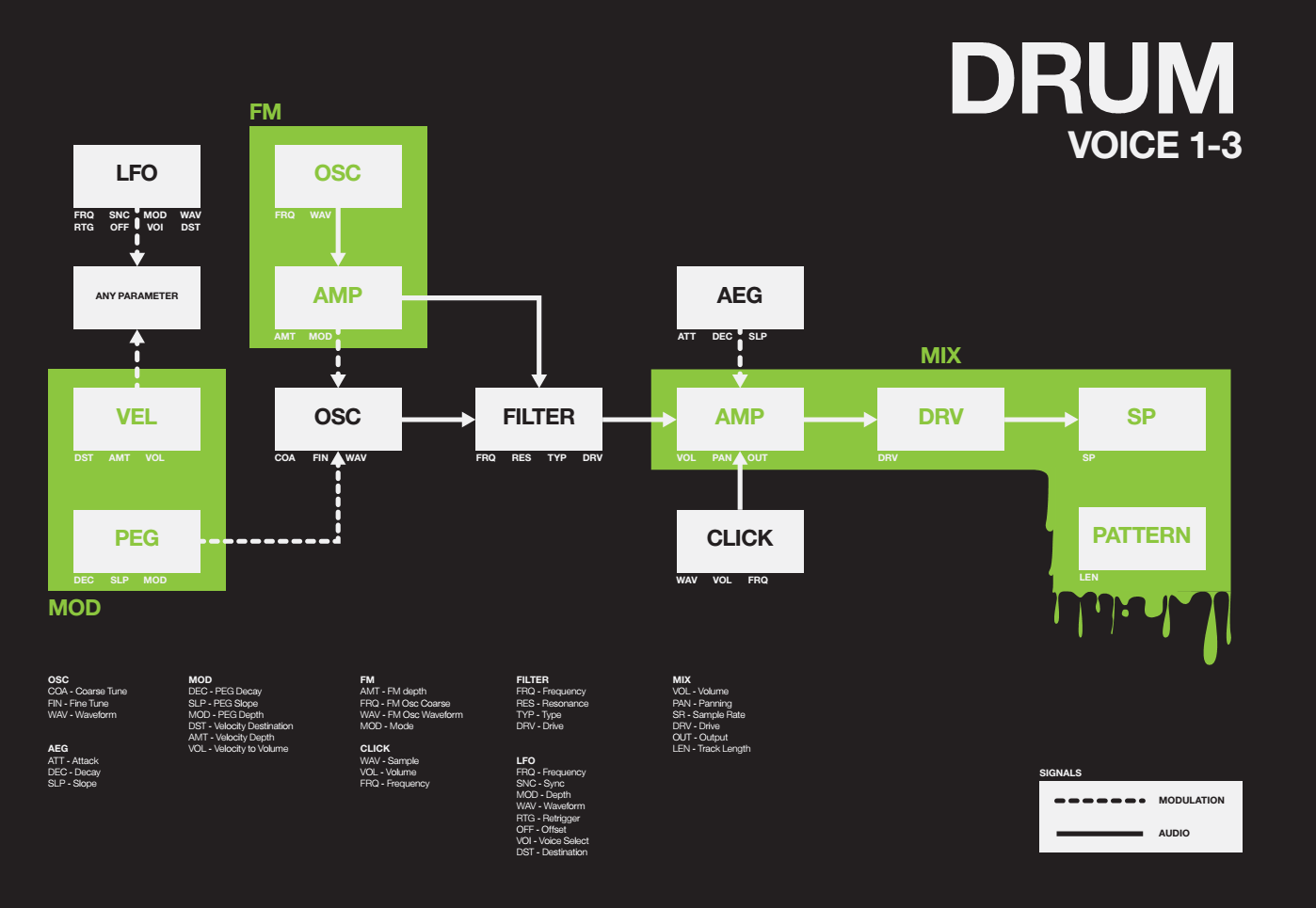 Image by zthee
Modulation Madness
You love modulations? So do we! That's why we've put a whole bunch of different modulation sources into the LXR that are capable of modulating any sound parameter. There are 6 freely routable LFOs, velocity modulation, the parameter automation from the sequencer and FM oscillators.
Usability
We tried to design the user interface as straight forward as possible. Nearly all functions are just 1 button press away, keeping the menu diving to a minimum. The synth was designed with live performance in mind, so all actions can be performed without stopping the sequencer playback and a dedicated 'performance mode' offers realtime features like manual triggered rolls and realtime preset morphing. As for the sound - this is not another bleepy toy! The LXR offers full 44kHz, 16 bit audio quality on 4 separate audio outputs.
Need a buddy?
What is better than a drum machine? Easy! A drum machine with a bassline buddy! The LXR-02 comes in the same form factor as the Erica Synths Bassline DB-01 making them the perfect companions.
Specs
6 drum voices
7 sequencer tracks
Powerful sound design engine
Over 30 adjustable parameters per voice
64 patterns and kits per Project
Voice volume sliders
4 analogue endless pots
Insert FX section
4 assignable 6,3" jack outputs (2x stereo or 4x mono)
Full-size MIDI in/out
Flexible, performance-oriented 64 step sequencer
Performance mode with mutes, rolls, master bitcrush, and kit morphing
Kit, Pattern, Performance, and Song memory
SD card for easy FW updates and Project backup
Cowbells!
USB MIDI
Headphone output
Extensive MIDI implementation
Durable and compact aluminum casing
Availability
The LXR-02 can be bought at any major retailer or directly in the Erica Synths shop